Posted on May 23, 2012 by John Houghton.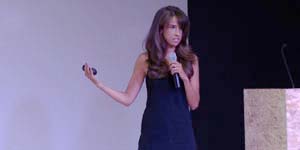 Have you ever thought about your insurance coverage and wondered which doctors you can visit, how many visits you have left for the year, what's your co-pay, or what's left in your health savings account (HSA)? If Katelyn Gleason has her way, there will soon be a consumer app for that.  Watch the video below from the May 21, 2012 Silicon Valley iOS Developers' Meetup. The Meetup is held on the third Monday of every month.

Above: Presentation by Katelyn Gleason at the Silicon Valley iOS Developers' Meetup Group, recorded on May 21, 2012.
Her company, Eligible, has been hard at work figuring out the back end which is based on the EDI 270 and 271 transaction sets.  If you don't know what that means, don't worry, because that's what Eligible has made easy.  The "P" in HIPAA stands for portability, meaning you can, and should, have access to your data.  App for health professionals is available now with the consumer app soon to follow.
Posted in Mobile Apps
Comments
There are no comments yet, be the first!
Leave a Reply