Posted on May 23, 2012 by John Houghton.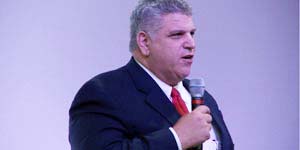 After heart surgery, Joseph Ekman was given a card to place in his wallet to instruct future emergency responders that he had a heart monitor. Being very nervous about such responders finding this card, he decided to create an app to make sure his responders would know about his condition. In order for it to work, he would have to create a nationwide network, processes, and systems for emergency responders.  The net result is everyone can benefit.
Joseph is now CEO and Founder of Emergency Standard.  Using the phone's accelerometer his company can detect a serious accident and dispatch emergency responders. Not only that, he's partnered with a GPS and Analytics company Alohar Mobile to make sure the responders know exactly where the victim is and how to get there.

Watch Video (above) of Joseph Ekman demonstrating his app to the Silicon Valley iOS Developer's Meetup Group (recorded on May 21, 2012).
Last week a man was found unconscious 7 days after his accident because officers failed to find him immediately after the accident occurred. Surely he would have been picked up right away if he had this app.
As the app evolves, I can see a number of ways to build on it. Cars are getting smarter, so synching the app with airbag systems of the car would make the app better. I can see it synching to a heart monitor, so if your heart were to stop, you wouldn't be left in your sofa for a week.
The free app is available on iPhone at and Android with Windows 7 and Blackberry soon to follow.
Correction was made to this article which initially said Joseph had a heart attack.  He actually had heart surgery.
Posted in iOS Apps, iPhone Apps, Mobile Apps