By John Houghton on November 21, 2014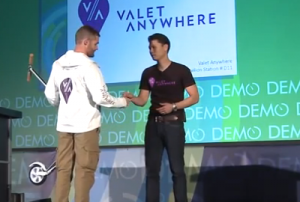 I was excited to cover DEMO Fall 2014, which ended yesterday. I have a lot of content and thoughts, some of it is already out and I'll be pushing the rest of it out as time permits. What I want to bring you is a sense of what you would learn if you were there and I've picked a good person to interview to give you that perspective (I encourage you to catch the next DEMO event). Erick Schonfeld is the executive producer of DEMO and he and his team reviewed scores of startups and selected the 40 who are attending. After reviewing so many startups in the space and considering he's been covering technology startups for a long time, he has quite a vista into what's going on regarding mobile trends.
Although he didn't want to talk about his other venture while running DEMO, Erick is also a mobile entrepreneur and his team has developed a video editing app for iPad. He has managed mobile projects and has a feel for what it takes to get an app built and distributed. This also contributes to an accurate perspective. Watch the interview below to get his thoughts on current mobile trends:
Current mobile trends include apps that do only one thing but do it very well such as Valet Anywhere, which at certain locations, allows you to get your car valeted and it is very unique in that the valet comes to you wherever you are. Skillpocket is a marketplace on your phone to find talent such as designers and developers. PathSense is an app that reduces the drain on your battery caused by GPS (which is a battery hog) – it tracks your motion and momentum to calibrate your position. Erick also discusses the evolution of tools for developing mobile apps and some of the constraints in hiring developers and designers.
There is strong demand for developers here in the US, but the rest of the world is coming up-to-speed on mobile technologies which provides a deeper bench for talent. Despite the availability of developers, a lot of tasks like user interface design and user experience are handled here in the states.
I remember talking to a development vendor in Estonia and asking him if his firm designs apps. He said yes, but he wasn't sure if we would like their design sense in Estonia because perceptions of good design can be quite different in different geographies. If the app was for a US audience, he recommended the design be done in the US. Conversely, I remember seeing the incredible work of a Polish designer. He had a great eye and wasn't even formally educated in design. Because of the demand for his talent, I could never book him. So it is possible to get good design overseas, but it may be more work to find individuals with your design sense.
Posted in Android Apps, App Development, iOS Apps, iPad Apps, Mobile App Development TV
Comments
Comments