By John Houghton on December 4, 2012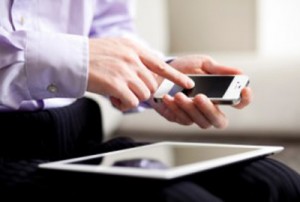 Mobility empowers organizations to improve time-to-market, especially for 24/7 operations.  Employees frequently don't mind working on-the-go, as long as the process is easy and helps them move their projects and careers forward.  If processes are difficult, they won't get done, but if companies design processes to be straightforward, things get accomplished more efficiently.  Simply put, going mobile makes things easier.
Much project work involves ordering new products and services, and the quicker we can receive these, the faster our organizations can move.  Procurement performed on mobile devices such as iOS or Android, whether it's phones or tablets, helps organizations move forward.
Faster Time to Utilization – Employees often need to order items to keep projects moving, but don't always have time to get in front of their computers.  With mobile ordering, it's possible to select items and create a purchase requisition while traveling between clients from the back of a taxi cab.
Quicker Approvals – Let's say a senior manager gets 15 purchase requisitions per day and starts falling behind.  The result is that critical items are not ordered, delaying projects and setting back schedules.  With a mobile device, such as an iPhone or iPad, that senior manager can approve purchases any time, anywhere.  For example, it wouldn't be possible to whip out a laptop on a busy train, but an iPad is feasible and an iPhone is also feasible, even if it's crowded.  Perhaps a percentage of people will like to perform such tasks on a tablet while they watch TV?
Realize the benefits of a more agile organization by embracing mobile apps to make processes more easy to follow for your organization.
Posted in Enterprise Mobile Apps, Mobile Apps
Comments
Comments