By John Houghton on January 2, 2013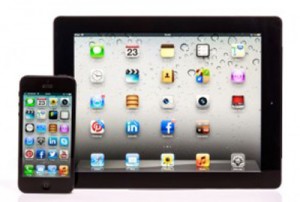 So, you have an iPhone app and now you want to make it work for iPad.  A lot of people think they can just expand the size of the user interface and they're done, but to make a successful iPad app you need to mold your app design to the iPad's interface.
Designing for the iPad is Different
According to Apple, "If you're planning to develop an app that runs on iPhone and iPad, you need to adapt your design to each device." (Apple iOS Human Interface Guidelines, December 17, 2012).  In the case of the iPad, this means that you need to model the user interface to match the screen size, aspect ratio, and user conventions of that device.  The layout that users expect differs dramatically.  For example, an email app for iPhone will have one screen for choosing emails to open, and a drill down screen for viewing the email details.  On the iPad, this is all done in one screen called a "split view" where the high level info (email summaries) is on the left and the detail (email text) is on the right.
"Merely scaling up an iPhone app to fill the iPad screen is not recommended.  Instead, you need to make your iPad app engage the user in ways that take full advantage of its larger screen and capabilities."  The iPad gives you more space, but you want to use that space wisely.  Many of the controls on the interface are different, and that can change the flow.  The goal is to make the iPad app more useable, and to this end, you should work to reduce the number of screens (versus iPhone), reduce steps (taps), and simplify the interface.
Users Expect Realistic Artwork on the iPad
Apple says users "expect more high-fidelity artwork in iPad apps" (Apple iOS Human Interface Guidelines, December 17, 2012), and this is especially true because of the retina display on the latest iPads.  Apps now differentiate themselves by adding artwork such as photo-realistic replicas of objects which are carried from physical analogs.  An app that doesn't have high-quality artwork sticks out like a sore thumb.  These high quality graphics make a big difference in creating a positive user experience and making your app successful.
Posted in iOS Apps, iPad Apps, iPhone Apps, Mobile Apps
Comments
Comments