By John Houghton on January 22, 2014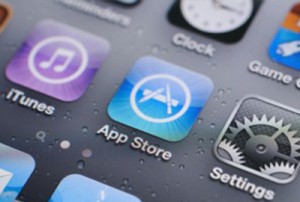 We spoke generally before about promoting your app, see the article 8 Steps to an App Marketing Strategy, so let's speak specifically now about how to optimize it for the iTunes Store.  We'll cover the Google Play Store in a future article.  It used to be that users could browse the latest apps by category in the iTunes store, but for some reason that functionality has since been restricted to a limited set of select apps in the top categories.  In order for users to discover your app, they need to query for it and search through the results.  Like it or not, we're living in a keyword-based world, and apps in the App Store are no different.  Think of their search tool the same way as you would a search engine, but instead of getting a wide variety of content, you get content filtered by Apple.
Therefore, there are some important ways of increasing discoverability on the App Store:
1. Create a Descriptive App Name.  Hopefully the name hasn't already been taken. You should consider hiring a trademark lawyer to make sure your bases are covered.  It's not a bad idea to trademark the name, if possible, in case somebody else tries to use it.
2. Write a keyword-rich description. When you write your description, make the first part of your description as informative and attractive as possible, because the description only displays the first few lines before the user clicks "more."  While you're at it, you should have an excellent app icon, and it should be so visually appealing that people can't resist the temptation to install the app.  You should have excellent screen shots, and they can be annotated to highlight key points about how to use the app.  Use URL safe characters; in other words, avoid things like hash tags, braces, or brackets.  It is best to stick to alphanumeric characters.
3. Show up in Related Apps.  After an app has had a certain amount of traction and installs, it will start appearing in the "customers also bought" section on the pages of other apps.  This is a great way to get discovered, because it displays apps that are similar to yours.  The only trouble is that you need some download history to get to this point.  You have to make an initial splash to get up there (see Marketing, public relations, and advertising below).
4. Get Listed in Featured Apps.  Apple hand-picks a small number of apps and features them on the App Store front page, and at the top of each category.  If you are picked, this can be good or even wonderful.  There are no particular criteria for being picked, only that your app looks good to the reviewers and looks like it will be popular.
5. Acquire Downloads and Reviews. Short of that, there are smaller things you can do to help your app rise to the top of the App Store search results list.  It helps when your app has many downloads and positive ratings and reviews.  Naturally, if an app appears to be catching on, Apple will tend to push it higher than apps that are not.
6. Initiate Marketing, Public Relations, and Advertising. These are very important activities.  In order to get listed in the "related apps" area, and to get downloads and reviews, you need to make an initial splash, and the likelihood of that splash can come from marketing, PR, and/or advertising.  These are all topics unto themselves that can't be covered sufficiently here, but if you release with no splash at all, you're not likely to get anywhere.  Consider marketing, PR, and advertising as the initial stage of a rocket, and once you get that boost, some of the other in-store features can take over to propel your app further.
With these 6 tips, hopefully you have learned more about optimizing your app for the iTunes Store through App Store Optimization (ASO).  If this article was useful, please share it with the social buttons above.
Posted in App Development, iOS Apps, iPad Apps, iPhone Apps
Comments
Comments