By John Houghton on November 22, 2014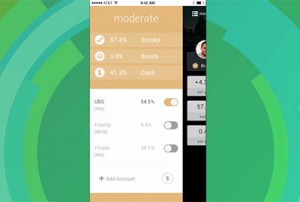 At the DEMO Fall 2014 conference what we do is watch other companies debut their products and then take feedback from a panel of judges.  I watched Brad Lawler of Draft present and the judges liked his financial services solution and they commented a lot on the excellent look-and-feel of his app.  
Sorry to say, but appearances make a huge difference in just about everything these days and mobile apps are no exception.  Incredible to me is that Brad designed the app himself.  He says he studied design for a few years on his own, and when it came time to design his app, he worked with a few different agencies, where he learned a lot but created the final design himself.  
Brad's user interface looks wonderful and it's a testament to his talent as a person who can do a lot of things well.  A lot of complaints I have about HTML5 interfaces is that they are slow and clunky, but his was fast due to optimization on the back end.  
Brad wants to create apps for iOS and Android so that he can have apps in the respective stores, but otherwise thought a company could achieve many of the same benefits through HTML5.  It's yet to be seen whether this is the right approach.  The trend now is people like to use apps on their mobile devices, versus the mobile web.  Draft has made a high performance HTML5 app, but I think what some people might miss is the ability to launch it from an icon.  True, you can make a shortcut on your home screen but most people don't know how to do this.  Also, in later versions, users might want features that require local processing or data caching, which is not robust on HTML5 versus native apps.  Either way, everybody was impressed with Brad's app, and it isn't lacking, he wants to do a native app soon, so more power to him.
As an FYI to people who want to develop an app.  If your app connects to external hardware, like a heart rate monitor, or uses native features of the phone like GPS, the accelerometer, or requires local processing – these usually require native development.
Posted in Android Apps, iOS Apps, Mobile App Development TV, Mobile Apps
Comments
Comments