By John Houghton on January 8, 2013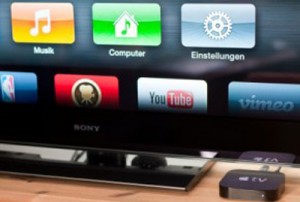 There is much talk this week at CES about Apple and it's mysterious plans for TV.  I have some insight here as my company has been specializing in mobile video for 7 years, and more recently, mobile apps.  If you've shopped for a TV recently, you'll see that many/most of them are now "smart" TVs, meaning they are platforms for mobile apps.
Here's the problem with adoption.  The traditional way people watch TV is by picking up the remote and surfing channels.  After flipping through, they find something they like and set a date with the TV or record it using DVR.  Most cable companies offer this service and it's considered "old school."
The new way Apple offers works like this – people get on their Apple TV, browse through titles of shows, watch previews, and then purchase or download their desired TV show or podcast.  I do it a lot, but I haven't seen this take off just yet.
Sometimes I watch people flip through channels, commercials and all, and I suggest they could download their content and watch it commercial-free.  A lot of people don't seem to be willing to give up the experience of flipping through channels.  People like channel surfing because that's the way it's been done for decades.  Maybe it's relaxing for them to do it this way.
Here is an idea for Apple.  Take your millions of hours of TV Shows and create a set of channels that run along the lines of people's interests.  Let users flip through (like channel surfing) and if they stay for more than 30 seconds, they need to buy it to watch more, or watch it for free but with advertising.  Doing it this way provides a transition to the adoption of downloaded content for people who like to surf.  It also provides a way for users to opt into highly-targeted video advertising.
Then come the TV apps.  For users that like TV-based apps, they can buy the app, watch their favorite "TV show" then afterwards tweet about it, play the video game, buy the merchandise, and interact online with others who feel the same way.  This would drive deeper engagement and make users happier.  What are your thoughts?
Posted in Android Apps, Apple TV, iOS Apps, iPad Apps, iPhone Apps, Mobile Apps
Comments
Comments