By John Houghton on January 14, 2014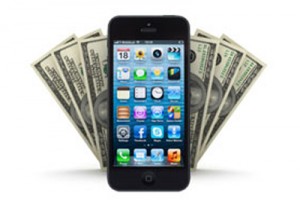 Before I get into how apps can be used for content marketing, many of you might not know what Content Marketing is, so let me first touch on that.  I like the way Wikipedia sums it up:
"Content marketing is any marketing format that involves the creation and sharing of media and publishing content in order to acquire customers. This information can be presented in a variety of formats, including news, video, white papers, e-books, infographics, case studies, how-to guides, question and answer articles, photos, etc.  Content marketing is focused not on selling, but on simply communicating with customers and prospects. The idea is to inspire business and loyalty from buyers by delivering consistent, ongoing valuable information."
A lot of companies have been trying to get better rankings in Google, yet Google's algorithm became so smart last year that it can now better tell the difference between valuable and bad content, and it ranks web pages accordingly.  Some folks have also become smart and have decided to publish only their best and most useful content and have figured out how to get the necessary momentum to drive the sales of their core product.  So that's Content Marketing.
The purpose of content marketing is to gain intimacy with your audience.  Google, Facebook, and Twitter have always been an intermediary, so we're used to dealing with them to grow our audience.  What if you didn't have an intermediary?  What if you could own a direct relationship with your audience?  Otherwise, you could invest a ton of work in any one of these platforms (Google, Facebook, and Twitter), but what if they change the rules on you and you lose your investment?  You're not in control.  This last year, Google's algorithms underwent drastic changes in releases called Panda, Hummingbird and Penguin.  Now, I think that Google is making good changes, but companies that had invested a lot of money in earlier marketing techniques lost their investment.  Similar things have happened with the other social platforms.
When you have a customer's email address and you can write to them, you have a direct connection.  When you have a customer's phone number and you can call them, you have a direct connection.  Now, when a customer has your company's app, you can provide a multimedia experience for them, communicate your message in a very tailored way, and get feedback directly from them.  One of the most effective ways of communicating your brand message is through video.  I believe that the combination of content marketing via video, combined with apps and gamification, is an untapped area and could be one of the most powerful ways of driving sales.
These days a lot of content isn't just delivered over the internet via web browser.  Smart publishers are packaging content into their apps, and reaping the rewards with customer intimacy and customer data.  This past summer, Jay-Z chose not to release his music via iTunes and the normal digital routes, instead releasing his music via his mobile app.  Think of the possibilities for interaction, cross-selling, upselling, and so on.
To open your mind, think of the possibilities of an interactive movie.  The viewer makes choices along the way that drive the content of the movie.  Okay, now shorten it to just a few minutes long.  Now instead of a movie, it's a product promo, and instead of driving the content, the app is having a conversation with the user, discovering the user's needs and preferences, all while entertaining them.  At the end, there is an opportunity to buy the customized product or service, and the purchasing flow is seamlessly incorporated into the app.  The more value the app provides, the more loyal the user will be to the app and the company that provides it.
Socrates said that to convince somebody of something, you have to know them very well – you have to know their soul.  He also believed in direct relationships; meaning that seeing a person is much better than seeing a picture of that person – there are fewer layers of separation.  Through research, it is possible to design an experience that provides marketers with more data (getting to know them well), and an app can be programmed to react in real-time to a user's preferences (direct interaction).  Data and direct interaction can form a powerful combination to lock into user's needs and and present tailored solutions, all on this most-used medium, their mobile device.
A very simple example of this interactivity is with videos.  Right now you watch a commercial on TV or on YouTube, and at the end, it has a call to action to buy the product on Amazon.  Okay, this is not so great, because you have to quit YouTube, sign in to Amazon, remember the product, and then query for it.  This is too many layers of separation.  It is much better to see the video in the app itself, and while it's playing or reaches the end, the user can then tap and purchase.  There are no steps (or layers) between the user and the entry into the purchasing flow.  There is no way to get lost.  If somebody wants to purchase, we've made it easy for them – it's one simple tap away.  This has been possible for a long time with videos embedded in apps; but now, much richer, interactive, multimedia brand experiences are possible.  I think there's a lot of money here, and the first few to figure it out are going to earn a lot of that money.  What do you think?
Posted in Android Apps, App Development, Enterprise Mobile Apps, iOS Apps, iPad Apps, iPhone Apps, Mobile Apps
Comments
Comments