Posted on May 23, 2012 by John Houghton.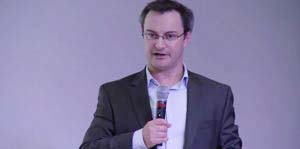 Find out how one California city connected with the local university with a hackathon to build a utility app to measure the condition of their local roads.  The prototype was build in 24 hours and the whole project was free for the City.  Jonathan Reichental, Chief Information Officer (CIO) of the City of Palo Alto provides perspective on issues faced by cities and discusses how Palo Alto is embracing apps:
- Emergency services such as police dispatch and earthquake protection
- Ideas for parking apps
- Augmented reality for business locators and city history
Below - CIO of Palo Alto, Jonathan Reichental, discusses how they are using technology, specifically apps, to solve problems.
Video was recorded at the Silicon Valley iOS Developers' Meetup on May 21, 2012.  These meet ups are relevant because it's where the local innovation is showcased.  A similar type of group in the 1970s was the Homebrew computer club and it's where Steve Jobs showed his computer prototypes.  Speaking from experience, attending and participating in these groups can have a large impact on your personal motivation towards innovation.  It puts you on the cutting edge of thought and influences your thinking.  If didn't make it to this meeting, you can watch the complete videos here.
Posted in iOS Apps, Mobile Apps
Comments
There are no comments yet, be the first!
Leave a Reply